Definitely, writing your work in a correct, clear, error-free English language leads to a correct understanding by the Editor and the readers which will in return lead to evaluating the work based on the quality and the correctness of the scientific content only.
"Poor use of language, grammar, and spelling can also be an important reason for technical modification, revision, or rejection." [1]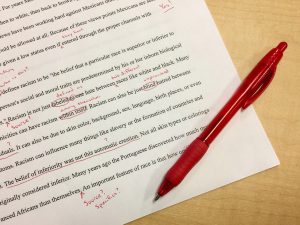 Our professional language editors ensure that your paper, thesis, dissertation, essay, and book are free of language mistakes. In addition, we make sure that the manuscript meets the international standards of language and that the content is correctly understood.
We assign each manuscript to two editors: an English editor and a proofreading editor. Both of them sign confidentiality agreements.
An English Editor
Corrects spelling mistakes

Corrects grammatical mistakes

Revises punctuation

Enhances wording

Reduces improper and inappropriate language usage

Ensures that the manuscript content is fully understood
A Proofreading Editor
Reviews all the changes made by the language editor and makes sure that everything is correct and the manuscript is ready for submission. We highlight all the changes for your consideration.
The English editing service does not include the following:
References verification and editing

Manuscript formatting

Content writing or paraphrasing
Please submit your work using the Submit Form or you can send it via email to submissions@rasayely.com and we will reply to you within 24 hours providing all details about the price quote and the timeframe by which your manuscript would be finalized. Once we finalize the manuscript, we will email it to you along with an English editing certificate so that you can submit to the journal as an additional file.
We are confident that our service will further improve your manuscript; however, this does not guarantee the publication. Therefore, we will follow up with you to ensure that you are completely satisfied. If your manuscript is rejected due to language issues, we will reedit the manuscript with no extra fees. Your manuscript is eligible for free reediting provided that you have not made any alterations after our language editing is finalized.
English editing and proofreading is an essential part of your manuscript preparation. That's why many international academic journals recommend language editing before submitting it.
[1] Dhammi IK, Rehan-Ul-Haq. Rejection of Manuscripts: Problems and Solutions. Indian Journal of Orthopaedics. 2018; 52(2):97-99. doi:10.4103/ortho.IJOrtho_68_18. [PMC free article] [PubMed]